WATCHMAKING EQUIPMENT 4.0 READY FOR EPHJ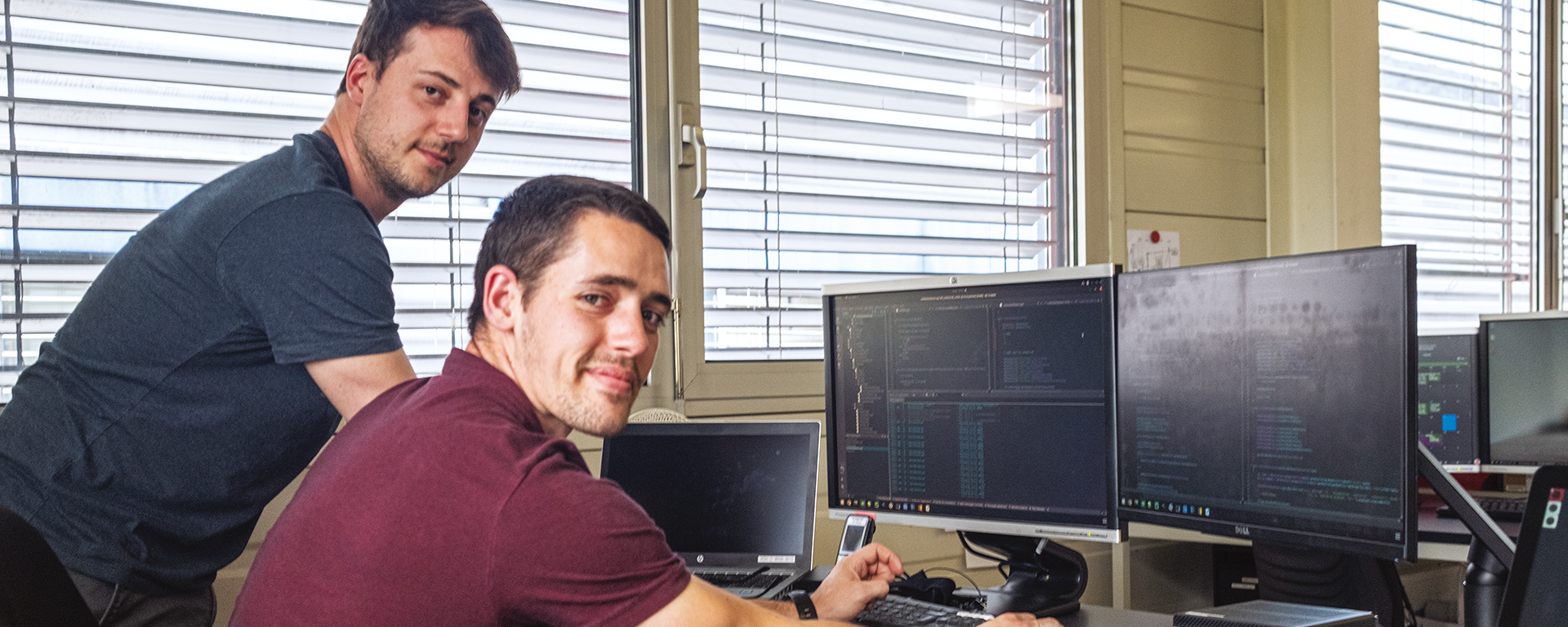 In preparation for the next EPHJ (June 14-17, 2022), VOH.ch is working hard to present a public preview of its range of watchmaking equipment incorporating LINKiX 4.0 technology. A strategy for the development of its solutions which is based on the excellent know-how of the engineers of our innovation team.
Romain Donzé and Erwan Bueche, respectively embedded computer engineer and development computer engineer, are responsible for integrating and developing LINKiX® in the watchmaking equipment designed and developed by VOH.ch. As a reminder, this ecosystem with its specific graphic universe, its wireless communication technology and its almost limitless possibilities of adaptation thanks to dedicated hardware and software technical bricks is now the basic framework of all our man-machine interfaces. In concrete terms, you will now be able to work from one device to another simply, in a known, coherent, connected and intuitive world. Our solutions are innovative and professional, they are now part of a logic oriented smart production and allow an approach of industry 4.0 still unprecedented for the world of the watchmaker.
Romain, who joined our company two and a half years ago, remembers: "When I was hired at VOH.ch, the only thing that was decided was the choice of wireless communication technology. The specifications were quite simple: everything that was done with SD cards had to be possible with a modern, wireless communication system." The specialist in embedded computing therefore set about the task with the support of Bastien Paratte, HES engineer and head of the Research & Development department. Bastien added his experience and knowledge to Romain's technical background: "In a project like this, experience is almost more important than technical knowledge. We exchanged a lot of information in order to propose a high-performance wireless solution
After several months of study, research and programming, LINKiX® is launched and successfully implemented in PAViX® solutions. At VOH.ch, we are witnessing the beginnings of 4.0 technology, which promises to be a great commercial success. A year ago, the software development entered a new phase. "We had a lot of requests to make LINKiX® information available to customers via remote access. To carry out this development, we realized that we lacked certain skills", comments Romain Donzé.
That's how Erwan Bueche came to work on the project. Recruited in May 2021, the computer development engineer sums up his mission as follows: "In a few words, the objective was to display on any computer, via a web interface, the information visible on the machine's screen." The newcomer's mandate began with a phase of acclimatization and familiarization with the project, followed by the programming of a demonstration that is now functional and being used for testing. The next objectives are to think about the design and to re-architect the solution in order to simplify its deployment to customers.
For both men, working on a 100% VOH.ch solution is particularly rewarding. "From a personal point of view, I find it good to develop this internally. We can come up with ideas for improvements and then implement them," explains Romain, who has programmed a solution that makes it easier for customers to update LINKiX®. "We send them a zipped file by email that they just have to copy onto a USB key so that the update is automatically installed on the device. A small innovation with big effects since it avoids trips to the customer. The decision to keep total technical control of the software at VOH is a strategic and conscious choice: "By integrating external elements, we quickly realize that we have to adapt ourselves 100% to this subcontractor, whereas we only need 10% of their product," says Romain. It's clearly more interesting to develop the missing parts in-house." The two men are therefore working on the continuous improvement of the LINKiX® technology, both in terms of functionality and accessibility via servers.
But today, the main focus is elsewhere.
The EPHJ trade show has been bringing together professionals from the high precision industry and crafts for the watchmaking-jewelry, microtechnology and medtech sectors for twenty years. The VOH.ch management did not participate in the September 2021 edition, preferring to focus its strategy on the deployment of LINKiX® technology on its various devices. This strategy is paying off, as it allows our company to present an innovative and striking 4.0 range at the EPHJ, which will take place from 14 to 17 June 2022.
Thus, since February, the engineers of the R&D team have been fully mobilized and busy in order to achieve this eminently strategic objective for VOH.ch. Since the EPHJ has been integrated into their schedule, the role of each one has been reviewed. "I'm in charge of integrating the solution into the large devices that absolutely have to be ready for the show, while Erwan assists him on small tasks and takes care of the deployment at the customers", explains Romain.
The challenge is huge for our engineers and the result of this huge work will be to discover in June, at the EPHJ, on the VOH.ch stand.
The challenge is huge for our engineers and the result of this huge work will be to discover in June, at the EPHJ, on the VOH.ch stand. The VOH.ch teams will welcome you at the EPHJ stand Q24 (June 14-17, 2022)