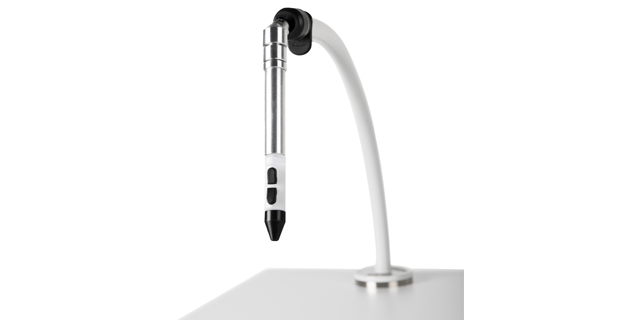 Electronic (antistatic) ionisation blowgun.
Straight connection art. N° 18.00339
45° connection art. N°18.00341

PRODUCT DESCRIPTION
Extremely small ionizing air blower for integration into the Ergo-suite air-vacuum dispensers. The electronically treated air blast removes the static charge from the components, loosens the dust and prevents it from being attracted again

TECHNICAL CHARACTERISTICS
ON/OFF function at the push of a button
Pressure max. 3 bar, manual adjustment on the box
Continuous air flow ON/OFF or pulsed air with manually adjustable frequency at the box
Operation display by LEDs integrated in the blowgun

APPLICATION EXAMPLE
Can be used "stand alone" on a workbench or integrated in a VOH Ergo-Suite Air-Vacuum-Dispenser.

DIMENSIONS